A shoe cabinet can be an important piece of furniture in your home. Its main purpose is to keep shoes organized. Most often, you'll find it near your doormat in the entryway. Another piece of furniture that serves the same purpose is a hat shelf or hatstand, or near your wardrobe rail or hook rack.
Freestanding shoe cabinet
If you're looking for a shoe cabinet that offers extra space for storage, a freestanding shoe cabinet is an excellent choice. Unlike cabinets with a bottom shelf, freestanding shoe cabinet usually has several shelves, so you can store more shoes. They also have extra space on top to store small items.
This shoe cabinet comes with four inside compartments for up to 12 pairs of shoes and two drawers. The inside compartments are all different heights, allowing you to put more than one pair in each compartment. The three top compartments are for flat shoes, while the bottom two are for tall boots and high heels. The design is simple and functional, with round corners to protect the user from bumping into anything. This piece of furniture is a great addition to any light luxury home decor.
If you have a small entryway, a freestanding shoe cabinet in Dubai is a great way to maximize storage space. Not only does it store shoes, but it can hold other items, including clothes, accessories, magazines, and recyclables. Plus, because they're so slim, they can easily fit on narrow walls, too.
A freestanding shoe cabinet can be a great choice if you have a large shoe collection. The individual "boxes" hold up to four pairs of shoes each, and the doors are made of clear or translucent glass. Many freestanding shoe cabinets also feature removable dividers to accommodate taller pairs of shoes.
Another type of freestanding shoe cabinet in UAE is a bamboo rack. This type of rack is made of sustainable bamboo and is sturdy enough to hold several pairs of shoes. It can also double as a plant stand in the garden and is a great accent piece in the living room. It is easy to assemble and disassemble, making it a versatile addition to any home.
Lazy Susan shoe rack
If you're looking for extra storage in your mudroom or laundry room, a Lazy Susan shoe rack cabinet is the perfect solution. Its modular design allows you to customize it to fit any size closet and is an excellent DIY project. It can be constructed using wood, paint, and regular hooks.
Another great feature of this type of shoe storage cabinet in Dubai is its ability to store several pairs of shoes. The shoes can be arranged by age or gender and easily accessed from both sides. Its open design means that you can see all of the items in the cabinet without bending over. It also helps keep your shoes clean and protected from dust and sunlight.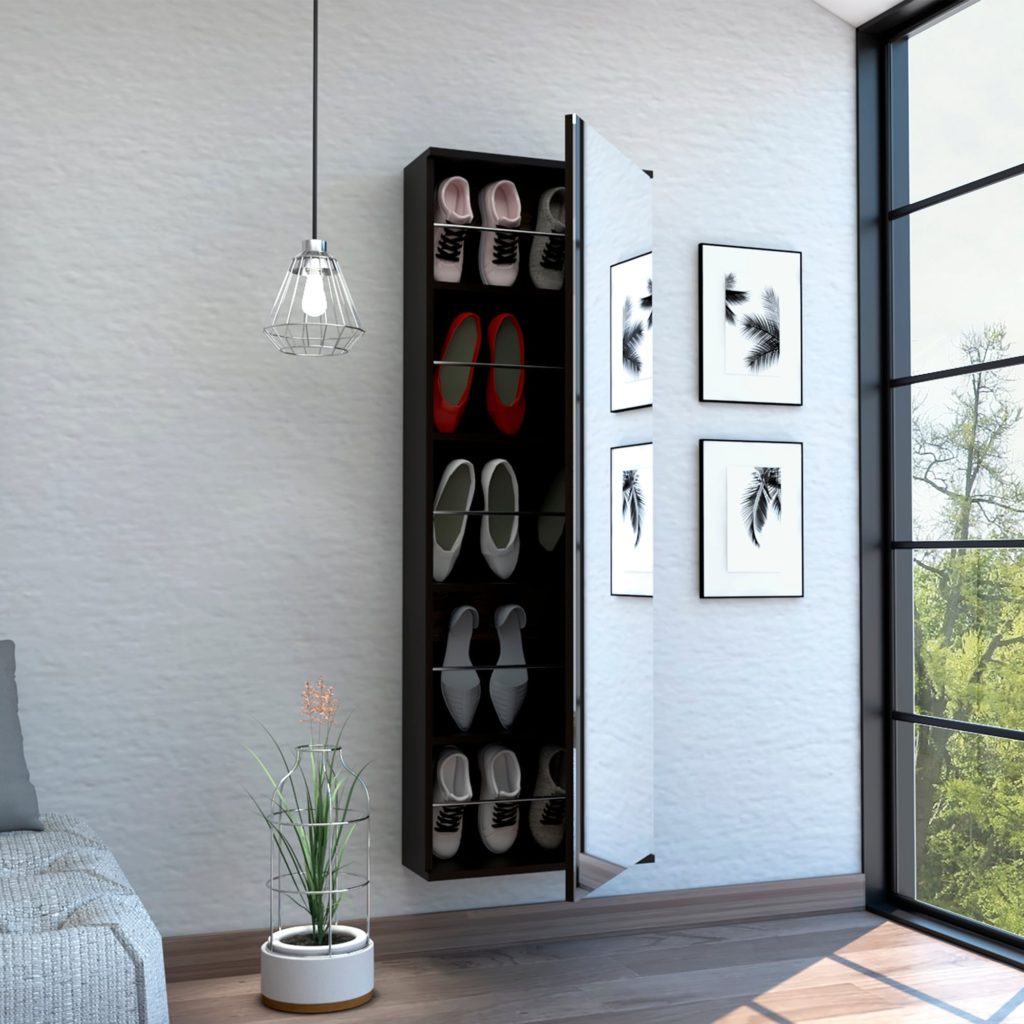 Another useful feature of a Lazy Susan shoe rack cabinet is its ability to store more than one pair of shoes. When your cabinet has several shelves, you can use a label maker to label them and make it easier to locate your shoes. This feature is especially useful if you have a large collection of shoes.
If you have a large family, you can make your hallway more functional with this type of storage cabinet. The square cubbies inside each tier are a great place for your shoes. Moreover, this storage cabinet can maximize the space in small spaces such as mudrooms, closets, or bonus room nooks. You can also choose a unit that features sliding shelves to save space.
A Lazy Lee shoe rack cabinet can be found in a wide range of colors. A shoe rack is an important piece of home furniture, so you should choose the color according to other home furniture products. Depending on the style and material, this storage system can hold up to two hundred pairs of adult shoes. It is also designed to accommodate toilet paper. You can store up to 228 rolls, which is ideal if you have more than one size of shoe.
Ventilated doors combat odor
A shoe cabinet that is equipped with ventilated doors will fight off odor and provide air circulation for your footwear. The ventilated doors will open and close with a magnetic closure system. This type of cabinet will hold up to 18 pairs of shoes. It's natural brown finish and four slatted doors will make it a great option for storage.
A shoe cabinet that has a ventilated door is one of the most effective ways to combat odor. Ventilated doors will prevent odor and keep footwear fresh for a long time. Ventilated doors are especially important in tall shoe cabinets. These cabinets feature deep drawers and will work well in large rooms and entryways.
Metal mesh wiring is another see-through option
Another see-through option for a shoe cabinet is metal mesh wiring. This is a durable option that is also attractive. However, it may be expensive. One interior designer, Jennifer Reynolds, charged her client $2,000 to install black wire mesh. For this project, Reynolds sprayed the white wire mesh black.
You can also use PVC pipes to build a shoe cabinet. These pipes are available at Home Depot. If you don't have much space, you can install modular cubby compartments to save space. They also add light to the hallway. These are great for storing shoes and can add a unique look to the hallway.